Farm Animal Team
Our friendly, dedicated team of staff are here to provide the best care for your animals. Our training is regularly updated to ensure that we are in touch with the latest methods and treatments.
---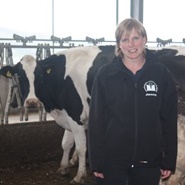 Jennifer Clayton - BVetMed MRCVS
Jenny Clayton graduated in 2002 from the Royal Veterinary College, London. She has been working in mixed practice since then and has been involved in all aspects of veterinary medicine. Her first love is cattle, particularly fertility work. She joined us in 2006 after spending six months travelling around South America and gaining an interest in Alpacas.
Her hobbies are renovating old houses, gardening, skiing and tennis. She also enjoys walking in the Devon countryside with her dogs and husband!
---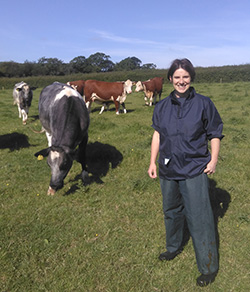 Lucy Morgan - BVetMed MRCVS
Lucy qualified from the Royal Veterinary College, London in 2002. Since qualifying
She has worked in mixed practice in Cornwall, New Zealand and Australia and in dairy cattle practice in Cheshire. She is interested in all aspects of farm animal medicine.
Outside of work Lucy enjoys looking after her horses, running and playing the cello.
---
Tom Laycock - BVMS MRCVS BSc (Hons)
I have been at working here since graduating from the University of Glasgow in 2011. I am currently working my way through an Advanced Practitioners Certificate (CertAVP) in Cattle with the University of Liverpool which covers a broad range of cattle diseases and management. Although hard work it has been very rewarding in terms of knowledge gained through it.
My main interests are in cattle fertility, mastitis and youngstock rearing, but I am interested in all areas of livestock production and herd health.
In July 2016, for 9 months, I will be working in New Zealand during a busy calving season to enhance my veterinary skills and learn new tricks.
When I'm not busy studying for my CertAVP or at work I will be found walking over Dartmoor or along the cliffs otherwise I will be playing my saxophone or clarinet. When time allows I enjoy watching the Exeter Chiefs at Sandy Park.
---
Nick Weaver - BvSc MRCVS
Nick is a very able general practitioner vet, having been practicing for many years. We are fortunate to have him on our team on a part time basis and he undertakes all types of work on the farm, in the stables or the hospital - wherever he is needed!
---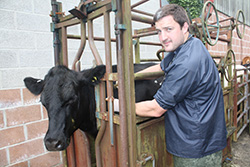 William Goulden - BVMS MRCVS
Will graduated from Glasgow Veterinary School in 2014 and joined us directly as a new graduate who had previously seen practice with us. Coming from a beef and sheep farm in Northern Ireland. Will enjoys all aspects of large animal medicine and surgery, with a particular interest in Diary fertility. When the opportunity arises he enjoys getting involved in equine work within the practice.
A keen sportsman, Will is currently playing rugby for Honiton RFS, enjoying both the playing and social side. Since arriving in Devon Will has joined the practice skittles team with mixed success. Always keen for a bit of fun Will can be found participating in random activities in search of an adrenaline rush.
---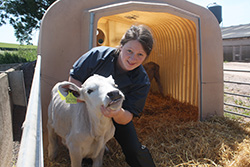 Lottie Baikie - BVSc MRCVS
Lottie graduated from Liverpool University in 2014 and worked in farm animal practice in Cumbria for nearly 3 years before joining our team.
She is interested in all aspects of farm animal medicine and surgery, including infectious diseases, youngstock health and beef cattle. She particularly enjoys flock health planning and is keen to get more involved with sheep work within the practice.
---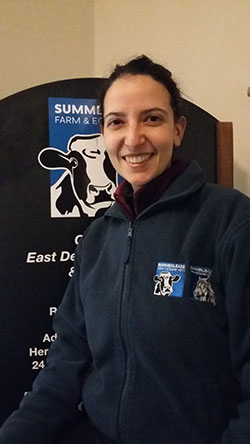 Marie
Maria Graduated in Teramo-Italy in 2015, soon after she moved to the UK for a 6 month work placement to improve her English and practical skills. During this time she fell in love with the South West.
When the placement finished she moved to North Wales as a TB tester where she routinely tested 500 cattle in a day but she missed the South West.
Maria enjoys the variety farm animal practice offers and has a particular interest in cattle fertility, herd health management and ruminant nutrition believing this can improve the quality of food produced with public health also being an interest.
In her free time Maria enjoys walking the coast path, visiting local towns and villages. Being Italian food is also a passion.
---
Farm Administrator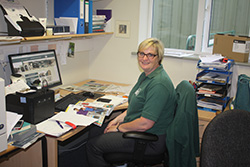 Alison Daubney - CSQP DipPM D32,33 Cert SA Nutrition VN
Alison began work as a trainee veterinary nurse in 1987. She qualified from Berkshire College of Agrculture in 1991 and joined our nursing team in 1992.Alison has worked in a variety of roles and has gained additional qualifications along the way. When not working Alison likes to spend time with her children and horses.
---
Farm Reception Staff
Emma Pluta SQP
Hayley Deblois
Sally Matthews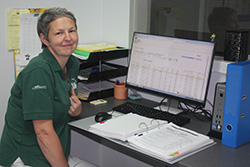 Emma Pluta SQP
Emma – Joined us in 1995, she is a qualified veterinary nurse, also holds the merchant SQP qualification and is currently studying for the NOAH certificate in Animal Health. During her spare time she enjoys a pint of real ale, walking her dog and listening to music.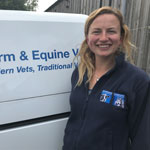 Sally Matthews - Is joining the farm and equine team she has worked within the SA hospital for 4 years and has a sound knowledge of the area and people. We hope she will pick up the regional farming terminology quickly and she enjoys working within our team.
Fo Jones SPQ(R)
Fo has worked within the animal health industry for the last 25 years. She joined the team in December 2014 and is responsible for the pharmacy and selling POM-VPS medicines to our farm and equine clients. In her spare time she enjoys riding her horse Sam.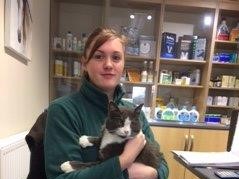 Fern Chugg
Fern is a farmers daughter and joined us in November 2016, she works part time within the support staff team. Fern also works at Ferne Animal Sanctuary where she has a more hands on approach with animals.
Nursing Staff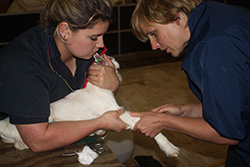 Amy Batten RVN(eq) (registered Veterinary Nurse)
---