Equine Team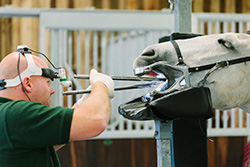 Stuart Altoft BVetMed,GPcert EP,CertAVP(ED),BAEDT MRCVS (Director)
Stuart Graduated from the Royal Veterinary College (London) in 2002 and spent the first 4 years of his career working in small animal and equine practice in Nottingham.
Following a few months travel in Central America, Stuart followed his love of equine medicine to the south west and has spent the last 8 years in first opinion and referral equine practice. He is particularly interested in equine dentistry, passing the BEVA/BVDA equine dental technician examinations in 2010. In 2015 he was awarded the RCVS certificate of advanced veterinary practice, focusing on equine dentistry.
Other areas of interest include lameness, back pain and dermatology.
With 2 young children at home Stuart has little time for external activities but when opportunity arises he enjoys cycling, playing the guitar and walking his very protective dog "Loki".
---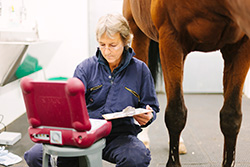 Tessa Porter MA Vet MB Cert SHP MRCVS (Veterinary Consultant)
Tessa qualified from Cambridge in 1985 and later joined us in 1988.
She enjoys all aspects of her equine work and, on the small animal side, has a particular interest in surgery and feline medicine.
Tessa has her own horses which take up much of her spare time. When she can, Tessa escapes to Kenya to visit family.
---
Anthi Kolovou DVM, MRCVS (Veterinary Surgeon)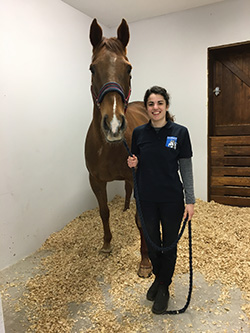 Anthi graduated from University of Thessaly, Greece in 2017. Soon after that, she moved to Northern Germany for 8 months, doing an internship in Equine Medicine. There, she gained a lot of experience on all aspects of Equine Medicine, since she was caring for at least 50 in house and ambulatory patients every day! Internal medicine and critical care are a great passion of hers, with colic's being her strongest point.
She joined our practice in April 2018 and she instantly felt in love with the green of Devon area.
On her free time, she usually explores the Devon and Cornwall area.
---
Equine Administrator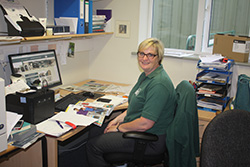 Alison Daubney - CSQP DipPM D32,33 Cert SA Nutrition VN
Alison began work as a trainee veterinary nurse in 1987. She qualified from Berkshire College of Agrculture in 1991 and joined our nursing team in 1992.Alison has worked in a variety of roles and has gained additional qualifications along the way. When not working Alison likes to spend time with her children and horses.
---
Equine Reception Staff
Emma Pluta SQP
Hayley Deblois
Sally Matthews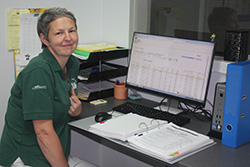 Emma Pluta SQP
Emma – Joined us in 1995, she is a qualified veterinary nurse, also holds the merchant SQP qualification and is currently studying for the NOAH certificate in Animal Health. During her spare time she enjoys a pint of real ale, walking her dog and listening to music.
---
Sally Matthews - Is joining the farm and equine team she has worked within the SA hospital for 4 years and has a sound knowledge of the area and people. We hope she will pick up the regional farming terminology quickly and she enjoys working within our team.
---
Nursing Staff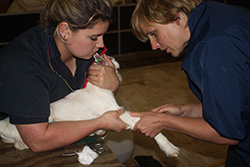 Amy Batten RVN(eq) (registered Veterinary Nurse)
---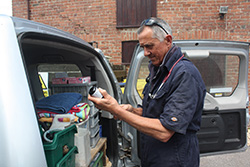 Tim Lawrence BVetMed MRCVS (Consultant Veterinary Surgeon)
Tim has retired from practice and will be enjoying the summer at music festivals,
Gardening, drinking beer and spending time with his grandchildren.
A general practitioner with special interest in equine and raptors.
Tim qualified from London in 1976. After 3 ½ years in Exeter, he has been in Axminster and has seen the practice grow from 6 vets to its current hospital status with 12 full time and 3 part time vets. He is proud to be the Senior Partner of such a caring and professional practice.
His special interests are in equine fertility having studied in Newmarket, equine dentistry having studied a two part advanced course, and Tim regularly attends British Equine Veterinary Association (BEVA) meetings and courses.
He also has a specialist interest in avian work, especially raptors (birds of prey).
With 34 years of experience, he is happy to deal with anything!!
---